SERVICES IN THE FIELD OF TREATMENT OF INDUSTRIAL WASTEWATER AND TREATMENT OF TECHNOLOGICAL AND DRINKING WATER
Complete supplies for water treatment plants
Projects and supplies for industrial wastewater treatment plants
Reconstruction and intensification of the existing water treatment plants and WTP
Do you need prepare and deliver the project for water treatment plant or WTP? Contact our company which has an experience in the field since 1991.

WATER TREATMENT PLANT AND WASTEWATER TREATMENT PLANTS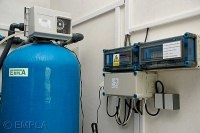 We offer a comprehensive solution to ensure a necessary quality of technological and drinking water, and wastewater according to the operational needs, the existing legislation, water management decisions, and the corresponding sewage regulations
sampling of drinking water, technological water, and wastewater, the corresponding analyzes and assessment by own accredited laboratory (including ecotoxicity and biodegradability tests)

chemico-technological solution

project documentation

supply of the most appropriate equipment of either complex technologies (including pipes, valves, measurement, and regulation), or individual technological devices

installation, put into operation, operator training

water treatment plant with a permanent service, supplies of chemicals for water treatment

RECONSTRUCTION AND INTENZIFICATION OF THE EXISTING WATER TREATMENT PLANTS AND WTP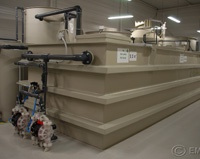 Does not meet your WTP or water treatment plant the limits of the monitored indicators? Contact us.
Your current water treatment plant or wastewater treatment plant will be inspected and we get acquainted with the technology which leads to production of wastewater. We perform the accredited analyzes in our own laboratories and find out possible causes of an insufficient purification efficiency or water treatment. Our output is a cause study of an inadequate running of purification technology or water treatment. We provide a way of a solution including costs and a quotation for the required equipment.

Water management services
preparation of operational rules for water cannons

preparation of emergency plans

preparation of flood plans

preparation of reports for the water authorities, the Basis enterprises, the Czech Environmental Inspectorate (CEI)

preparation of ownership and operation records

preparation of a permit request for offtake and discharge of wastewater

and other services according to the requirements arising from the Water Act, as amended, and related decrees and regulations


Company policy
professional solutions taking into an account the latest trends in the fields of water treatment and wastewater treatment

quantity discounts, price advantages of regular customers

helpfulness and individual approach to all customers

quality, reliability, delivery flexibility
Are you interested in our services? Do not hesitate to contact us using the contact form or over the phone (+420 495 218 875).

The most commonly supplied equipment for water treatment
filtration equipment

clarifiers

device to remove iron and manganese

softening equipment

deacidification equipment

disinfecting equipment

reverse osmosis

dispensers and other equipment according to the customer requirements

The most commonly supplied equipment for wastewater treatment
reactors, tanks, generators, and mixers

dispensers for chemicals in a treatment process

mixing equipment

equipment for coagulation and sedimentation processes (settling and sedimentation tanks)

filtration equipment

membrane devices

thickening equipment

sorption devices

flotators

separators of oil products, fats, and oils

carwash

biological wastewater treatment plants (activation, fine-bubble aeration with complete stabilization of sludge, denitrification)

sludge economy (sludge thickeners, filter presses, etc.)